OVER ENERGY WITH EVERY SPARK
8/7/2013
MORE OSCILLOSCOPIC PICTURES, INDICATING TWO SIGNALS, TAKEN FROM THE SPARK GAP, WHEN THE PAPIMI FIRES.
THE YELLOW SIGNAL IS TAKEN BY AN INDUCTIVE COIL OF 3 TURNS, PLACED TWO METERS APPROXIMATELY, AWAY FROM THE SPARK GAP.
THE BLUE SIGNAL IS TAKEN FROM THE MIDDLE OF REDUCTION RESISTORS: 65/1000000, SCHEMATIC 6, MAIN PAGE.
THE YELLOW INDUCTIVE SIGNAL, INDICATES A DUMPING SINE SIGNAL WITH SPIKES AT EVERY TOP NEGATIVE OR POSITIVE. THIS SIGNAL EXTINGUISHES FINALLY AT THE END, WHEN THE SIMULTANEOUS BLUE SIGNAL, RESISTIVELY COUPLED (SCHEMATIC 6, FRONT PAGE), BECOMES RATHER CONSTANT SMALL AMPLITUDE SINUSOIDAL, THOUGH BEFORE, IT WAS COMPOSED OF TWO HUGE SIGNALS OF UNEQUAL AMPLITUDE, BUT OF THE SAME FREQUENCY. OBVIOUSLY THE INDUCTIVE SENSITIVITY OF THE YELLOW SIGNAL IS NOT ENOUGH AT THIS PART OF THE CURVE, COMPARED WITH THE SENSITIVITY OF THE BLUE SIGNAL, COUPLED RESISTIVELY.
EXCESS ENERGY IS INDICATED BY BOTH SIGNALS: WITH 1. THE SPIKES ABOVE THEIR ZERO LEVEL, INDICATED BY THE 1 IN THE TRIANGLE VERY LEFT; MOSTLY: WITH 2. BY THE WILD BLUE EXCURSIONS ABOVE AND BELOW, WELL OVER THE INITIAL VOLTAGE, BLUE AND FAINT HORIZONTAL MOSTLY:LINE AT THE VERY BEGINNING, SLIGHTLY ABOVE THE ZEROTH HORIZONTAL LINE AT 2 IN THE SQUARE WITH TRIANGLE TOP, LOWER VERY LEFT, OF EVERY PICTURE.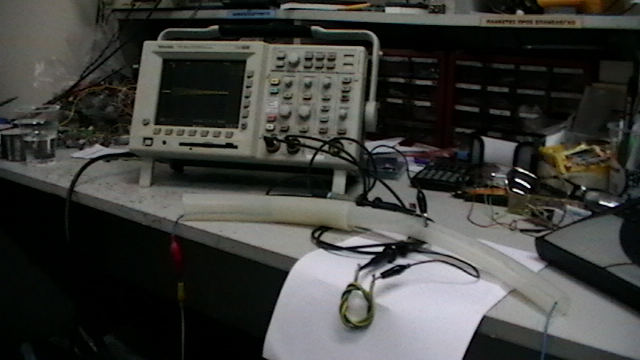 3 TURN COIL FOR YELLOW SIGNAL, RESISTOR DIVISOR TUBE FOR BLUE SIGNAL.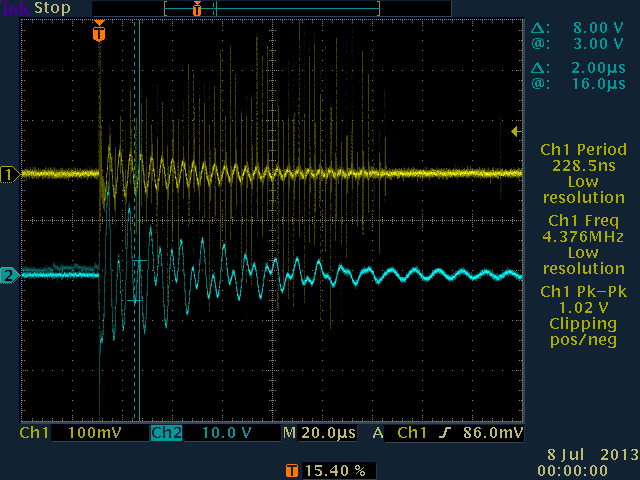 THE TWO SIGNALS START ABSOLUTELY SIMULTANEOUSLY,
WITH THE INITIATION OF THE CURRENT OF EVERY PULSE,
BUT THE YELLOW SIGNAL OF INDUCTION, IS SHORTER,
UNTIL DECAY OF THE CURRENT IS PROGRESSED ENOUGH,
INDICATED BY THE BLUE SIGNAL.
RADIATIVE DE-EXCITATION OCCURS, INDICATED BY THE INDUCTIVE YELLOW SIGNAL,
BEARING SPIKES.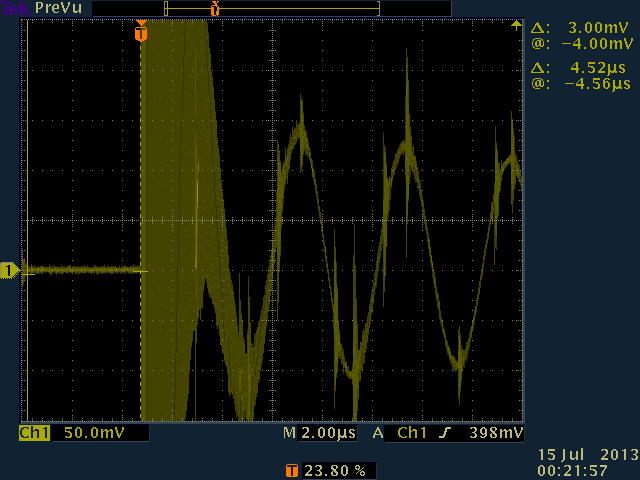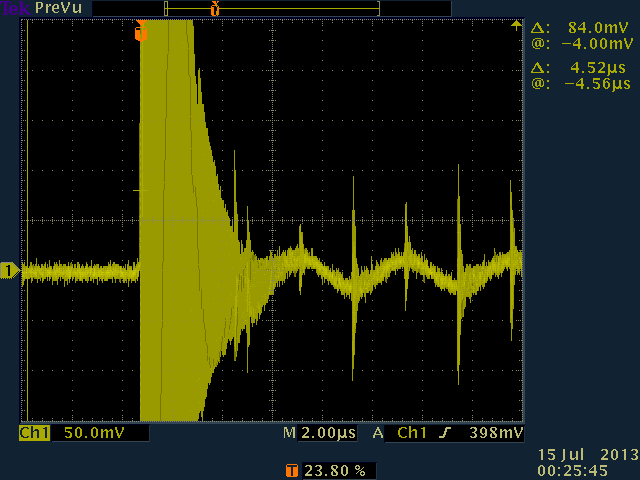 HUGE OVER VOLTAGES ARE INDICATED BY THE INDUCTIVE COUPLING, YELLOW GRAPH, AFTER THE INITIATION OF THE SPARK, GETTING OUT OF THE SCREEN OF THE OSCILLOSCOPE, BUT AS THE COUPLING VARIES FROM PICTURE TO PICTURE, CAN NOT BE CALIBRATED, THESE INDICATIONS ARE ONLY QUALITATIVE.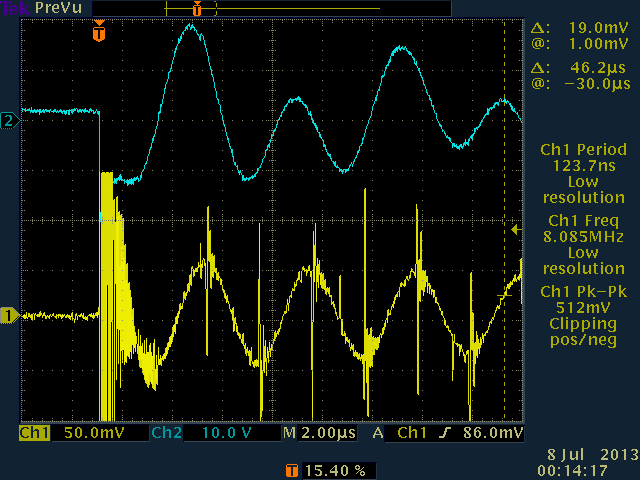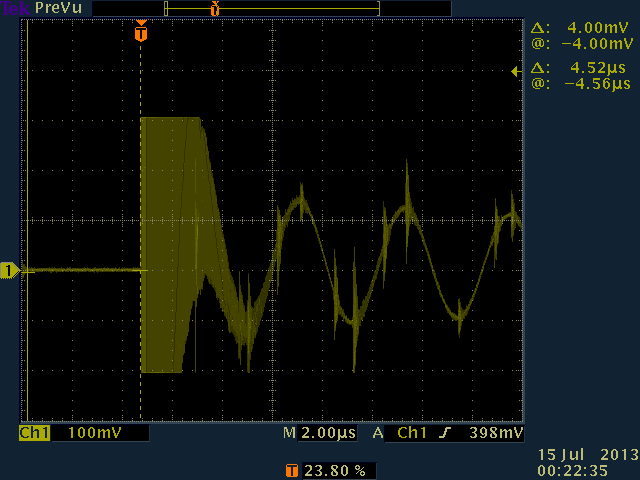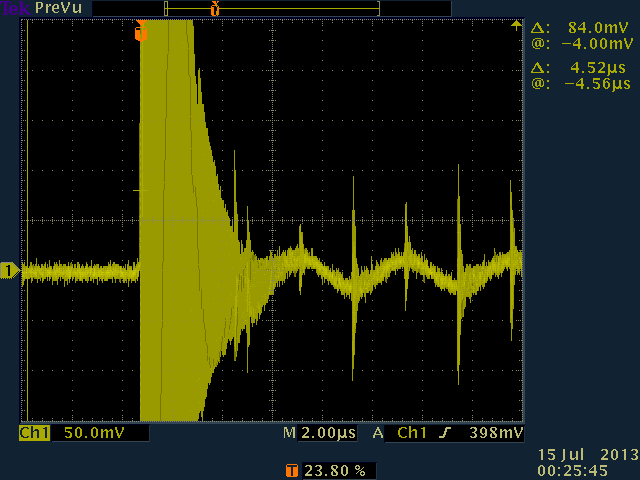 TWO COUPLINGS BY INVERTED COILS
OUT OF PHASE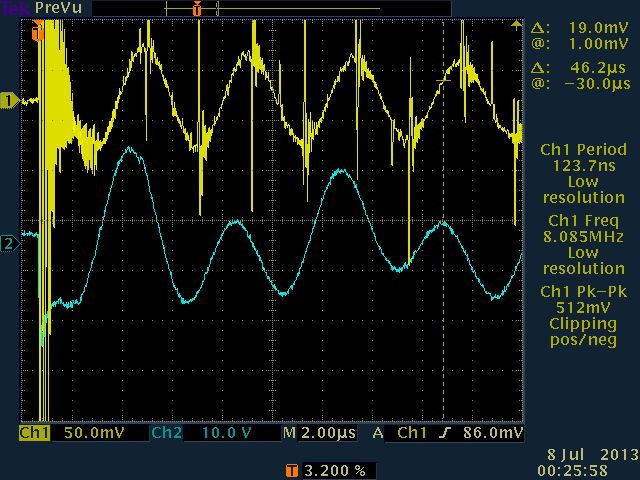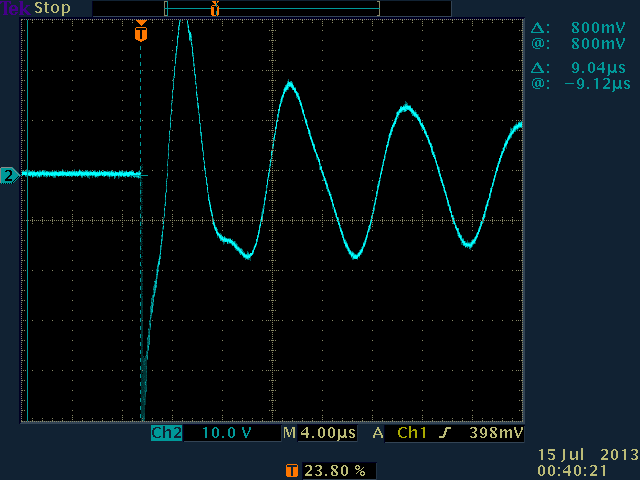 THE TWO SIGNALS ARE INITIATED SIMULTANEOUSLY, SUBSEQUENTLY, THEY GO OUT OF PHASE. WE DO NOT UNDERSTAND CURRENTLY WHY.
RIGHT PICTURE INDICATES THE BLUE GRAPH AT TWICE TIME RESOLUTION, THE LOWER HORIZONTAL PART OF THE LEFT PICTURE, APPEARS OBLIGED, AS IT SHOULD.
PRIOR THE SPARK, THE VOLTAGE IS INDICATED HARDLY ONE mm ABOVE ZERO. AFTER, INITIATION OF THE SPARK, THE VOLTAGE RISES AND FALLS MUCH CONSIDERABLY.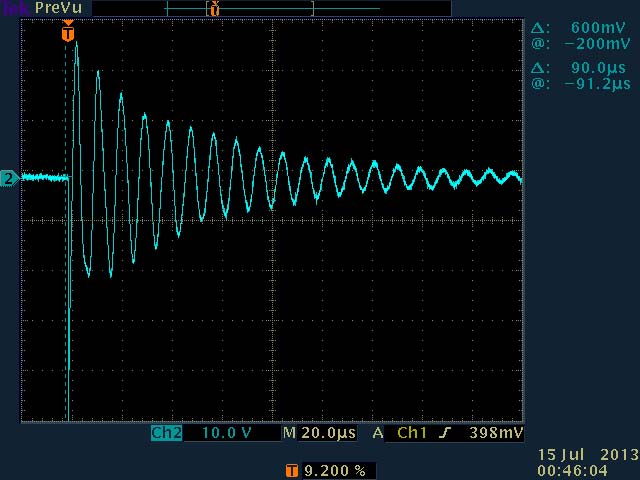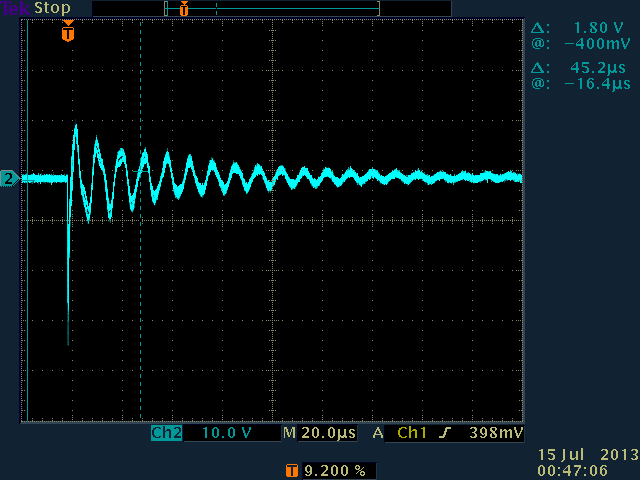 COMPARISON OF THE VOLTAGE AT THE ENDS OF THE SPARK GAP, LEFT, AND THE VOLTAGE AT THE ENDS OF THE ONLY COIL IN THE CIRCUIT, RIGHT, WHICH MIGHT HAD PROVIDED A BACK EMF TO THE SPARK GAP, MEASURED, UNDER IDENTICAL SETTINGS OF THE OSCILLOSCOPE, ON JULY 15, 2013 AT 00:46:04 AND 00:47:06 EASTERN TIMES.
THE VOLTAGE AT THE ENDS OF THE SPARK GAP ARE MUCH BIGGER THAN THE VOLTAGE AT THE ENDS OF THE ONLY COIL IN THE CIRCUIT.
SO, THE COIL CAN NOT HAVE FED THE VOLTAGE TO THE SPARK GAP, BUT THE OTHER WAY AROUND.
RESEARCH CONTINUES...